Here at HackRepair.com, we pride ourselves in quickly identifying and repairing damage from all sorts of server-related hacks. To do this, we stay up to date on the latest security and hack-related news, as well as attending the largest hacker conference on Earth, DEFCON, held for the last 24 years in Las Vegas, NV USA.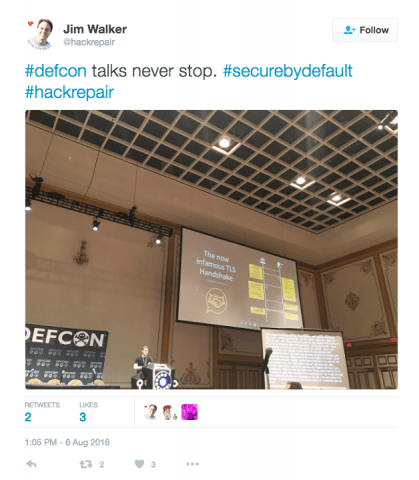 For all but two of the last fifteen years, we've been sending our folks to DEFCON Las Vegas to learn as much as we can about the new cyber attack and mitigation techniques. DEFCON ran for four days this year.
Day 1 of DEFCON is usually a whirlwind day, a time for waiting in line to get your badge, finding friends and acquaintances, and planning out the week.
Recently, they've added less technical talks to start people out. Some are quite informative and an easy way to get involved.
And sometimes you get some old-school tech to play with, like this sweet pager watch.
Geez! I remember those…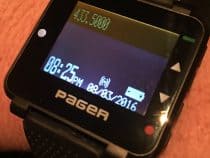 DEFCON – Cyber Grand Challenge
This year was really special as well because the final round of the Cyber Grand Challenge was held at the beginning of the conference.
DARPA, a US government agency responsible for everything from the Internet to GPS navigation, implemented the CGC to develop automated systems to repel and initiate cyber attacks.
The winning machine, a supercomputer named Mayhem (event picture at left), was coded by a team from Carnegie Mellon University, and the winning machine will be held in the Smithsonian Institution for its efforts. Quite a sight to see!
* Pictures above courtesy of Dan Tentler
DEFCON 2016, Day 2-4 are where the real talks start, and where the most important talks start winding their way through to the weekend.

Some of our favorite talks this year at DEFCON 2016 were:

Day 2:
° Feds and 0Days: From Before Heartbleed to After FBI-Apple
° 411: A framework for managing security alerts
° How to design distributed systems resilient despite malicious participants
° Direct Memory Attack the Kernel
° Malware Command and Control Channels: A journey into darkness

Day 3:
° Escaping The Sandbox By Not Breaking It
° Stargate: Pivoting Through VNC To Own Internal Networks
° Attacking Network Infrastructure to Generate a 4TB/s DDoS for $5
° Cunning with CNF: Soliciting Secrets from Schannel

Day 4:
° Toxic Proxies – Bypassing HTTPS & VPNs to pwn your online identity
° VLAN Hopping, ARP poisoning & MITM Attacks in Virtualized Environments
° Hiding Wookiees in HTTP – HTTP smuggling

DEFCON 2016 – The Experience
On a secondary level, the massive amount of information security professionals at DEFCON helps to breed a sense of community, and as you can see, there's a lot of esoteric information here, that only a true security professional would love.
Understanding and utilizing the information gleaned from these talks is our bread and butter. Protecting your sites from attacks by malicious hackers is the way we work.
"Secure By Default" is our philosophy and this is how we do it.

Enjoy!