Has My Website or WordPress Website Been Hacked?

My name is Jim. I am a website security expert with over 25 years of experience in web hosting and website security. My rates for securing a website typically range from $30 to $279. Please Call me now or use the chat bubble below for more information.
What are the signs that my website may be compromised:
You have noticed unusual files or folders within your account.
You received a malware warning from Google Search Console (GSC).
Google is displaying a warning message such as "This site may be hacked."
You observe pharmacy-related text or links in Google searches.
Your account is generating unwanted email.
Your web hosting company has suspended your website due to malware.
Your website is not functioning as expected.
Your website appears to be infected with malware.
Your website has been blacklisted.
Your website is experiencing slow or erratic loading.
Your website is redirecting to other sites without your authorization.
"We clean and fully secure most hacked websites within 2 hours."
With over 25 years of experience and a long list of verifiable customer testimonials, me and my website security team will detect and eliminate malware, resolve website security issues, and work to assist you in monitoring and preventing future hacking attempts on your website in the future.
Video Testimonials

How can I guarantee that I will clear & recover your hacked website?
We've been securing websites since 1997.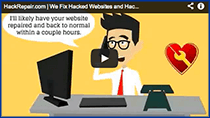 I have created a collection of tools to swiftly detect and eliminate malicious scripts or hacker code from your website pages.
At HackRepair.com we handle all work in-house, here in San Diego, California.
Our website cleanup procedure involves working directly with Google to quickly unblock your website on both Google, Bing and other search engines.
What makes HackRepair.com different?
We start fixing your site immediately and will follow-up until the matter is fully resolved.
Our goal is prevention. We will educate you so this doesn't happen again.
We provide you with a full security review and recommendations report.
We include WordPress security plugin installation.
We bill a flat rate for our services (no surprise charges).
We will teach you how to better secure WordPress.
We have years of advanced WordPress expertise.
We inspect every file on your site for malware.
We clear all hack related issues, including blackhat SEO spam injections, phishing, drive-by downloads, backdoors, and other malicious files.
We will work to fully upgrade your WordPress website and update all plugins as well.

Money back guarantee if we are not able to resolve your malware issue!

A few more HackRepair.com related links:

Popular Articles on HackRepair.com:
Please call now for website hack repair, website recovery and malware cleanup services today, (619) 479-6637
Chat with you soon!