Has My Website or WordPress Blog Been Hacked?

Is your site displaying the "This site may be hacked " warning at Google.com or Bing.com?
With over 18 years experience and a long list of "verifiable" customer testimonials, our trained Website Security Team will identify and remove malware, work to fix website security issues, and do our best to help you better monitor and prevent your website from being hacked in the future.

And we'll go several steps further in fully locking your website down against hackers. We'll install custom security measures where possible; help you set up a website backup strategy; and help to repair basic website errors; all for a reasonable flat fee—no matter how long it takes to resolve.
 • Learn more about our Hack Repair Website Cleanup Service—Listen Now?
"We clean most infected sites of malware within two hours and unblacklist websites within 24 hours."

Why choose HackRepair.com?
We will discuss your situation by phone, (619) 479-6637, to determine how quickly we can repair your website. Our average resolution time is less than two hours.
We are WordPress experts. And, we have years of website hosting, customer service, and server management experience. No other website repair and cleanup service can match our customer service commitment, responsiveness and years of real-world experience.
We will help review and unblock your site within Google Webmaster Tools and help in clearing any Google.com or Bing.com website listing issues, whether it takes 3 days or 3 weeks.
Our goal is to prevent your website from being hacked again. We will do our best to provide you security related information and tutorials customized to your specific needs and requirements.
We do a lot more than just remove malware. HackRepair.com is a total service provider.
• And don't forget our money back guarantee!
How can we guarantee we will clear & recover your hacked website?
We've been securing websites since 1997.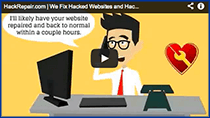 We have developed a range of tools to help quickly identify and clear malicious scripts or hacker code from your website pages.
We do not outsource our work. Everything is done in-house, here in San Diego, California.
Our cleanup process includes working directly with Google on your behalf to ensure your website is unblocked within Google.com or Bing.com as quickly as possible.

"I've been Hacked and need help?"
Don't allow hackers to ruin your reputation, call (619) 479-6637
What makes HackRepair.com different?
We start fixing your site immediately and will follow-up until the matter is fully resolved.
Our goal is prevention. We will educate you so this doesn't happen again.
We provide you with a full security review and recommendations report.
We include WordPress security plugin installation.
We bill a flat rate for our services (no surprise charges).
We will teach you how to better secure WordPress.
We have years of advanced WordPress expertise.
We inspect every file on your site for malware.
We clear all hack related issues, including blackhat SEO spam injections, phishing, drive-by downloads, backdoors, and other malicious files.
We will upgrade your blog(s) and update all plugins as needed.
Money back guarantee if we are not able to resolve your malware issue!

Popular Articles on HackRepair.com
Please call now for website hack repair, website recovery and malware cleanup services today, (619) 479-6637