I encounter a lot of different types of people and personalities in my line of work. One of the exceptional experiences I look forward to is in working with children bloggers.
Child bloggers, under the age of 18, is a growing trend. Many of these young people have never experienced a world without the Internet. I find my work with these young people especially challenging because I'm forced to think differently.
The first challenge I often run into is the "I'm in class" issue. I've actually had to struggle with this a bit. There are some rather "adult" issues to consider when relating to helping school-age children with website malware and security related issues.

Case in point, I had one young person call me every day for several days at 4 a.m. The questions asked were of the "Can you help me…" variety. I was rather perplexed at first as to why the person wasn't following up to my questions during the day. Later I learned the young person had to get up early to prepare and leave for his high school class at 5 a.m. so he couldn't contact me during the day. The first time I experienced this type of inquiry I wasn't sure what to do; the situation really took me outside of my usual mode of thinking.

And then there is the challenge of how to speak with young people. I often speak with nuance, natural for my age and perfectly fine in conversations with an adult, but speaking with a young person in this way may lead to confusion and awkwardness. I find myself having to consider what I'm saying more carefully and with a more optimistic tone.
Just this past week I was having a discussion with a number of folks within a Facebook WordPress security forum. A member of that forum read one of my replies and contacted me by email early the next morning.
The subject of the email was, "MY SITE HAS BEEN HIT BY MALWARE". Well, that got my attention. So I asked her to chat with me through my website's chat link. Within a few moments, it became clear that I was not interacting with an adult English speaker. So I asked the person to call me so we could discuss the website situation in more detail by phone.
The phone rang, I picked up and was met by a rather youngish voice, who before I could say hello, said, "I'm a 14-year-old blogger with a site hosted by WordPress.org. I recently found out that my site had been attacked with malware."
Within a few seconds, it became clear that she was confused as to who her hosting company was, so we spent the next 10 minutes discussing what a hosting company is, who her web host was and how her website was set up.
And then she said, "After contacting my hosting provider, I was informed that they'd need a hefty amount to fix it. I was wondering whether you would be a better alternative after reading the testimonials and such on your site. Can you help me?"
We then tried to determine the logins, but she could only remember her WordPress username and password; which did not work due to the WordPress login page leading to an error page. We had to end the call at that point while she called her hosting company. Her last response that morning, "I'm at school and unavailable from 7:00 AM to 4:00 PM."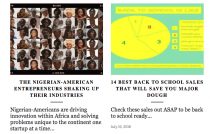 With our chat ended and with an expectation of discussing the situation again later that day I started my usual malware review process, checking for bad text in Google search and the like. And then it became more clear who I had been speaking with. Her name was Toluwa, a young Nigerian-American blogger.
Later that day we spoke again. And while she was on the phone I helped her fix the issue and explained as carefully as I could how to best secure her website in future.
She was quite ecstatic and excited to see her website back online and working properly. There was a big hug moment (by phone) and I closed the call with a promise to follow up with a full report by email.
While writing my report after the call, I found myself thinking back to our discussion and the optimistic emotions I was feeling.
Given all of the commitment she applied to her blogging and the hopelessness she must have felt in potentially losing her stories and articles, and then actually having someone help her with her WordPress website by phone, I'm so glad I was a part of that.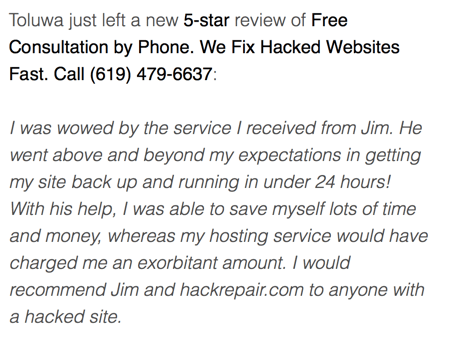 So how does one end a story like this?
I guess I'm just overjoyed that I was able to at least be a part of that level of optimism and in helping a young writers talent.
Enjoy!