Ok, so PTPUS (Post-traumatic Plugin Updates Stress) is not a real medically accepted term — yet. That said, is anyone else irritated by the nearly constant weekly updates of some WordPress plugins?
And I'll use Yoast SEO as an example here, although I could insert a number of high profile plugins into this discussion just as easily.
In all seriousness, I'm all for quality plugin updates. But I manage quite a number of WordPress websites and the near-constant plugin updates cycle of some WordPress plugins has become counterproductive to my process, not to mention stressful at times.
I mean I love seeing a plugin being updated periodically, especially if it's for wonderful new feature sets, but does there come to a point where once weekly plugin updates are just too much?
Take the Yoast SEO example, I've actually begun to recommend other SEO related plugins because this has gotten so nutty.
In my presentation, I asked, "Is there such a thing as Post-traumatic Plugin Updates Stress (PTPUS)?"
Your thoughts on WordPress PTPUS?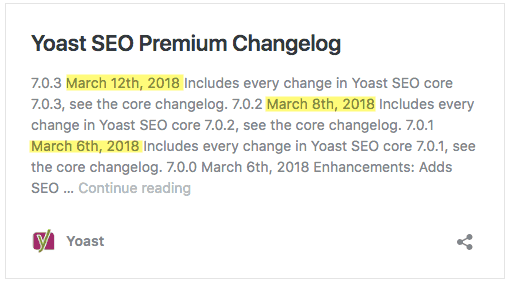 #yoast #PTPUS