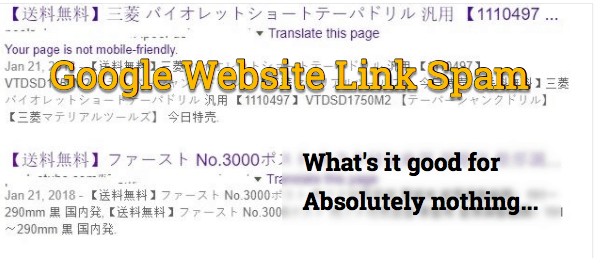 Below is a question I received from a client in regard to his Google search listing after he attempted to clean his website of malware.
"My site had a malware attack. I restored DB and files from December 2017 backup. However, withing Google search, "site:my_domainname.com" is still showing garbled results like in the image and there are about 240 results which give 404 error when clicked on the links.
Should I still be worried or will Google eliminate the garbage results?"
In reply to his question about website link spam showing in Google search:
Yes, I see this quite often. The situation is fairly straightforward. Once hackers had access to your account they uploaded a sitemap file and then a Google Search Console (GSC) update to "pull" the hacker sitemap file with links.
There are a number of steps you'll need to take in order to clear this, the most important of which is to submit a new "clean" sitemap through your GSC.
Once you complete the resubmittal and reindexing it may take from 3 days to 3 weeks for all of the bad links to clear out. And after a few weeks, if any bad links remain you'll need to do a manual removal within your GSC to clear them.
This is all par for the course as part of a complete website security cleanup and lockdown of your account.